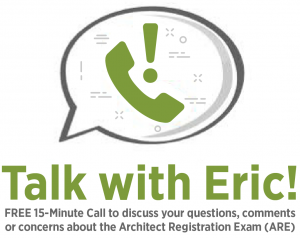 Something on your mind? Question, comment or feedback related to the ARE? Need a mini strategy session? Eric is ready to chat with you! Check out his calendar below to schedule your FREE 15 minute call with Eric!
Please only one 15 minute call per month per candidate. If you want more time to focus on specific issues, or need evening/weekend options, we do offer One-on-One Coaching.
***NEW SPOTS OPEN EVERY SATURDAY MORNING!***
Eric has 12 spots available per week for FREE Calls. You can book your spot beginning Saturday morning for the following week. Once spots fill up for that week, you will need to wait until the next Saturday for spots to open again for the following week. Trouble getting in? Check out One-On-One Coaching!
Instructions:
Schedule an appointment below.
Call Eric at the scheduled date & time.  (You'll receive his contact info after scheduling your appointment.)
If you are going to be more than a few minutes late, cancel or reschedule the call using the instructions in your calendar entry.
NOTE:  If you reach the voicemail, feel free to call back or text to that number.
How to Use this Call:
Discuss confusing topics in a specific ARE division;
Create a strategy for a study plan or develop test taking tips;
Answer specific vignette questions or concerns.
If you need more time, we offer One-on-One Coaching.
Tips on Maximizing this Call:
Be on time!
Have your questions ready.
Know which exams you've taken or scheduled, and which you still have to complete.
Cancellation Policy for NO SHOWS: If you don't call Eric at your scheduled time and you do not let him know ahead of time, i.e. No Show, you will not be allowed to schedule another FREE Call OR Coaching Call for 6 months.