You'll love our exclusive Video Vignette Walkthrough Program narrated by Eric and Aubrey!
We have created our unique and exclusive Video Vignette Walkthrough Program to compliment our Vignette Review Guide and D.I.Y. Workbook for each of the divisions. Each video is high quality and recorded in HD so you can watch in full screen. 
30 Day Unlimited Access to the Video Vignette Walkthrough Program is included in the Ultimate Whole Enchilada package and only available by purchasing the Ultimate Whole Enchilada for your chosen division.
Eric and Aubrey take you step by step through the process for thinking about and solving each vignette so you will become more PREPARED and more FOCUSED when solving the actual vignettes on the NCARB Exam.
The FREE Video below is Site Grading #2 from our Site Planning and Design Division. We have provided this video absolutely free so you can get a peek inside our unique Video Vignette Walkthrough Program;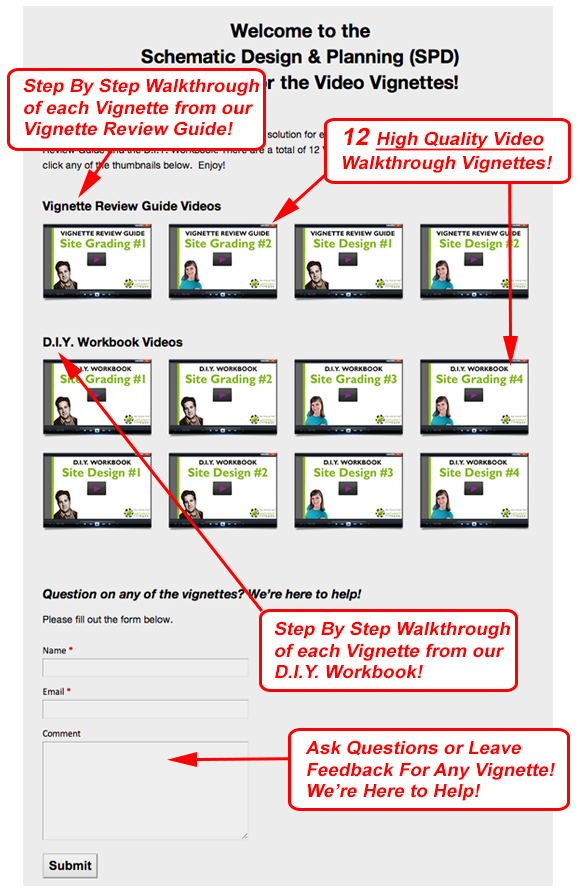 To get your access to our exclusive Video Vignettes Walkthrough Program for your division, head on over to the Exam Products page! This is a great program to help you better understand and solve the graphic vignettes.