Practice Management (PcM)
Project Management (PjM)
Programming & Analysis (PA)
Project Planning & Design (PPD)
Project Development & Documentation (PDD)
Construction & Evaluation (CE)
All 6 – Ultimate Whole Enchiladas
The latest version of the Architect Registration Exam (ARE) is known as ARE5.0.  Whether you're new to taking these exams, or have been beaten up by the rolling clock for years, you need the best study materials available to help prepare you to pass.
We have put together the coolest, most comprehensive study packages available, anywhere.  We have the best pass rates in the industry.  Plus, we've priced it well below the competition.  Our ARE packages (which we call the "Ultimate Whole Enchilada") include everything you'll need to prepare.  Now we're discounting it even further by giving you a $150 discount when you buy all 6 study packages.
Our study packages are reviewed and approved by NCARB, so you've found the exact package you need to pass!
You'll get everything – all SIX of the complete Ultimate Whole Enchilada packages.  That means 6 study guides, plus our highly acclaimed Audio Companions, 3 Case Study Guides, and Ultimate Flashcards.  And yes, you'll get access for ALL SIX divisions for our incredible Online Multiple Choice Exam Simulator.
It's just like buying all six separately, but with a huge discount.  So what are you waiting for?!
Please note that ALL of our products are DIGITAL and available for INSTANT download only.

You will not receive books or hard copies of the material.  This lets us avoid printing and shipping costs and keep our prices low.  Plus you can use these on any of your devices.  We've designed everything so you can print out the materials for your own personal use, or use them on your laptop, phone or tablet.
BUY ALL 6 NOW $949
BUY ALL 6 + UNLIMITED COACHING $1649
Frequently Asked Questions
The BUY ALL 6 Package does not qualify for our Risk-Free Guarantee.
BILL S.
Norwalk, Connecticut
David and team, I Passed PPD and I owe a lot of it to you. I have already purchased PDD and am looking forward to listening to the lectures over and over and over. The practice exams were incredibly helpful too. I am so excited because I had failed this one a handful of times and it was nice to have a different study material that focuses on what NCARB is looking for. Thanks again and I hope to continue to send emails like this.
EVA L.
Los Angeles, California
David, I had failed twice on CE. But after I studied your program, I passed CE for the first time on June 6 (also my first pass ever). I'm starting on PJM this week. And I'm so glad I bought all your divisions. You and your team rock! And thank you again!
LINDSAY C.
Papillion, Nebraska
Really enjoying your products. Just passed PCM and hoping to have the same success with PJM in a few weeks. Thank you!
THE BUY ALL 6 PACKAGE INCLUDES EVERYTHING
6 ULTIMATE STUDY GUIDES
• Over 1500 Pages
• Over 325 Diagrams
• Sections based on NCARB's ARE Exam Guide
• Read on your iPad or Android Advice
ULTIMATE 3 CASE STUDY GUIDE
• 12 Case Studies
• 315 Questions
ULTIMATE AUDIO COMPANIONS
• Over 80 Hours of High Quality Audio
• 28 Albums
• 120 Individual .mp3s
• Add to your iTunes library
• Listen on iPod, iPhone, iPad or Android devices
• Listen to our Study Guide Anywhere
ULTIMATE FLASHCARDS
• Over 1350 Flashcards
• Formatted for Easy Printing & Cutting
ONLINE MULTIPLE CHOICE EXAM SIMULATOR (OMCES)
• 30 Days of  Unlimited Access for each division (30 x 6 divisions)!
• Activate each exam simulator when you're ready!
• Mimics the actual exam!
• 2000+ Test Question Bank!
• 18 Unique Tests (just like the real NCARB Exam!)
• Test with Feedback or Without!
• Results display percentages by Module!
• Practice online, iPhone, iPad or Android devices!
(HOW DOES THE 30 DAYS OF ACCESS WORK?)
FREE BONUSES!
• 6 Audio Commentaries with Eric and David
• Audio Walk-Thrus of the AIA Contracts
• PDFs of the AIA Contracts
DO YOU HAVE WHAT IT TAKES TO PASS OUR 8-MONTH CHALLENGE?!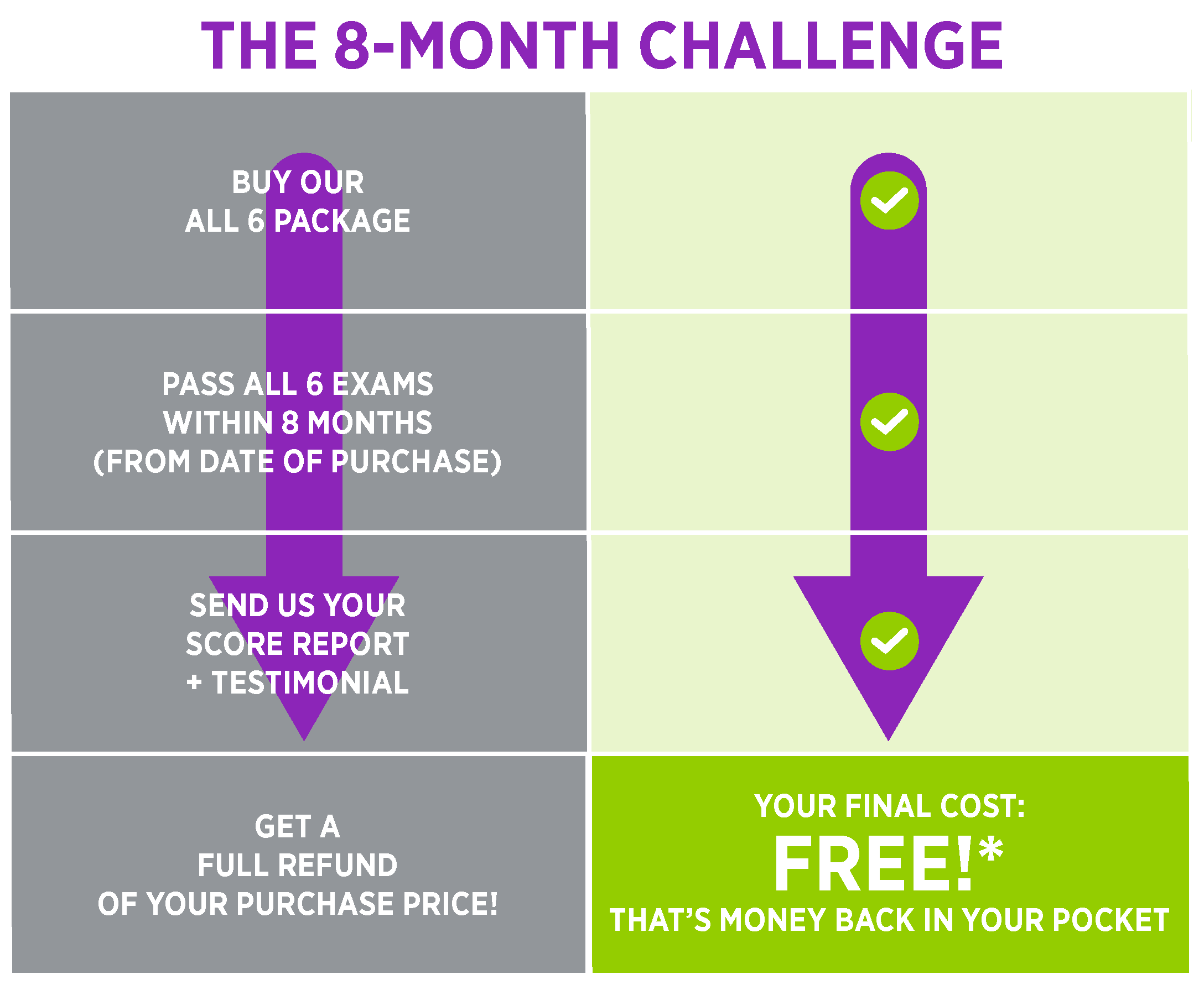 BUY THE ALL 6 PACKAGE.




PASS ALL 6 EXAMS WITHIN 8 MONTHS.




WE'LL REFUND YOUR MONEY!
The average person takes over 3 years to pass all six of their ARE exams. That is too long. So we've got a little challenge for you.
If you take and pass all six of your exams within eight months after purchasing our BUY ALL 6 package, we'll refund your money!
Yes, that's right. Just share your score reports with us showing you took all of your exams within that 8 month period and get the full purchase price for our study packages as our congratulations gift.
THE FINE PRINT: Don't be a jerk. You have to not have passed any of the exams before purchase. You'll have to email us copies of your score reports as proof and your exam dates must be within eight months of the date of purchase. In addition, we ask you to provide a usable video testimonial so other candidates can hear your remarkable story. Simply email us your good news. Read our full Terms + Conditions here.