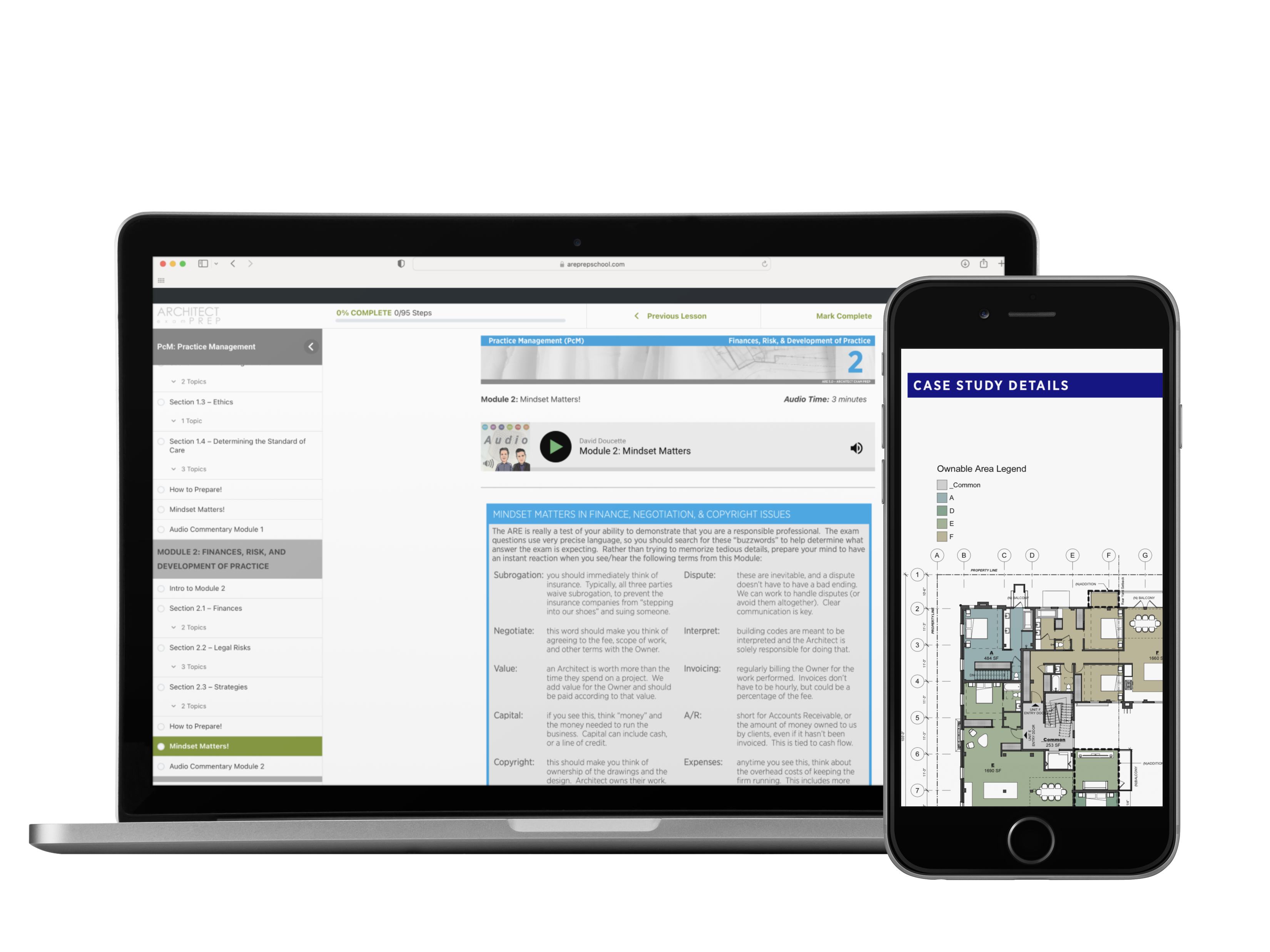 All Access – Subscription Packages for All 6 Exams
The Architect Registration Exam (ARE) requires you to pass 6 exams. Although you can take them in any order at any time, most candidates tend to drag out the process for years.
We suggest you make a plan to finish all 6 within a year by taking an exam every two months.  To help you do that, we offer All Access subscriptions monthly, or save money with a 6 or 12-month plan.  Each gives you access to all 6 study packages.  The longer the subscription, the more you save per month!
ONLY HAVE 1 or 2 EXAMS LEFT?  Grab the monthly All Access Subscription and study any division you want.
LOOKING TO TACKLE PcM, PjM + CE?  Grab the 6-month All Access Subscription and take them 2 months apart.
JUST STARTING?  Grab the 12-month All Access Subscription and you're all set!
Each package includes a complete mindset-building journey. It starts with a study guide that perfectly follows the structure of the actual NCARB exam and is written in clear language.  The Audio Companion (like an audiobook) is presented alongside the guide so you can listen and follow along simultaneously from anywhere.  Our audio commentary shares examples of how we apply these concepts in real life as memorable stories.  The 3 Case Study Guides prepare you for the actual case studies with project documents that look/work the same.  Plus, we include hundreds of digital flashcards that mirror the sections of the exam, plus a timed exam simulator that gives you instant feedback and scoring so you'll know when you're ready to sit for the test.
Our study packages were reviewed and approved by NCARB, so you've found the exact package you need to pass!
Your membership allows you to access this from anywhere, on any device, through our beautiful online course portal. You can even download the audio and flashcards to take them with you!
Please note that ALL of our products are DIGITAL and available for INSTANT access.

You will not receive books or hard copies of the material.  This lets us avoid printing and shipping costs and keep our prices low.  Plus you can use these on any of your devices.  We've designed everything so you can print out the materials for your own personal use, or use them on your laptop, phone or tablet.
Single Exam Division 3 MONTHS
for 3 months
One Time Payment of $147
Renew at $99/mo
or $49/mo exam simulator only
Hundreds of Exam Simulator Questions
240 Flashcards
Compare to Black Spectacles at $249/month
ALL 6
Ultimate Whole Enchilada 12 MONTHS
Regularly $119/mo
That's like getting 6 Months Free!
One Time Payment or 4 Easy Payments
Get 24/7 access to all 6 Study Packages for a FULL YEAR!
INCLUDES UNLIMITED PASS GUARANTEE
Compare to Black Spectacles at $2490
Downloadable Audio + Flashcards
Pause Your Subscription Anytime
Extend If Needed
Platinum Coaching 12 MONTHS
MOST POPULAR!
Regularly $249/mo
That's like getting 6 Months Free!
One Time Payment or 4 Easy Payments
Get 24/7 access to all 6 Study Packages + Coaching for a FULL YEAR!
INCLUDES PLATINUM PASS GUARANTEE
Compare to Black Spectacles at $3290
Downloadable Audio + Flashcards
Pause Your Subscription Anytime
Extend If Needed
+ Finish In A Year
+ Live Coaching by 2 Architects
+ Daily Study Plan
+ Two Weekly Live Zoom Calls
+ Get All Your Questions Answered
+ Free One-on-One Coaching Session ($100 value!)
+ Highest Pass Rates!

PLATINUM COACHING: The Mentorship + Support You Need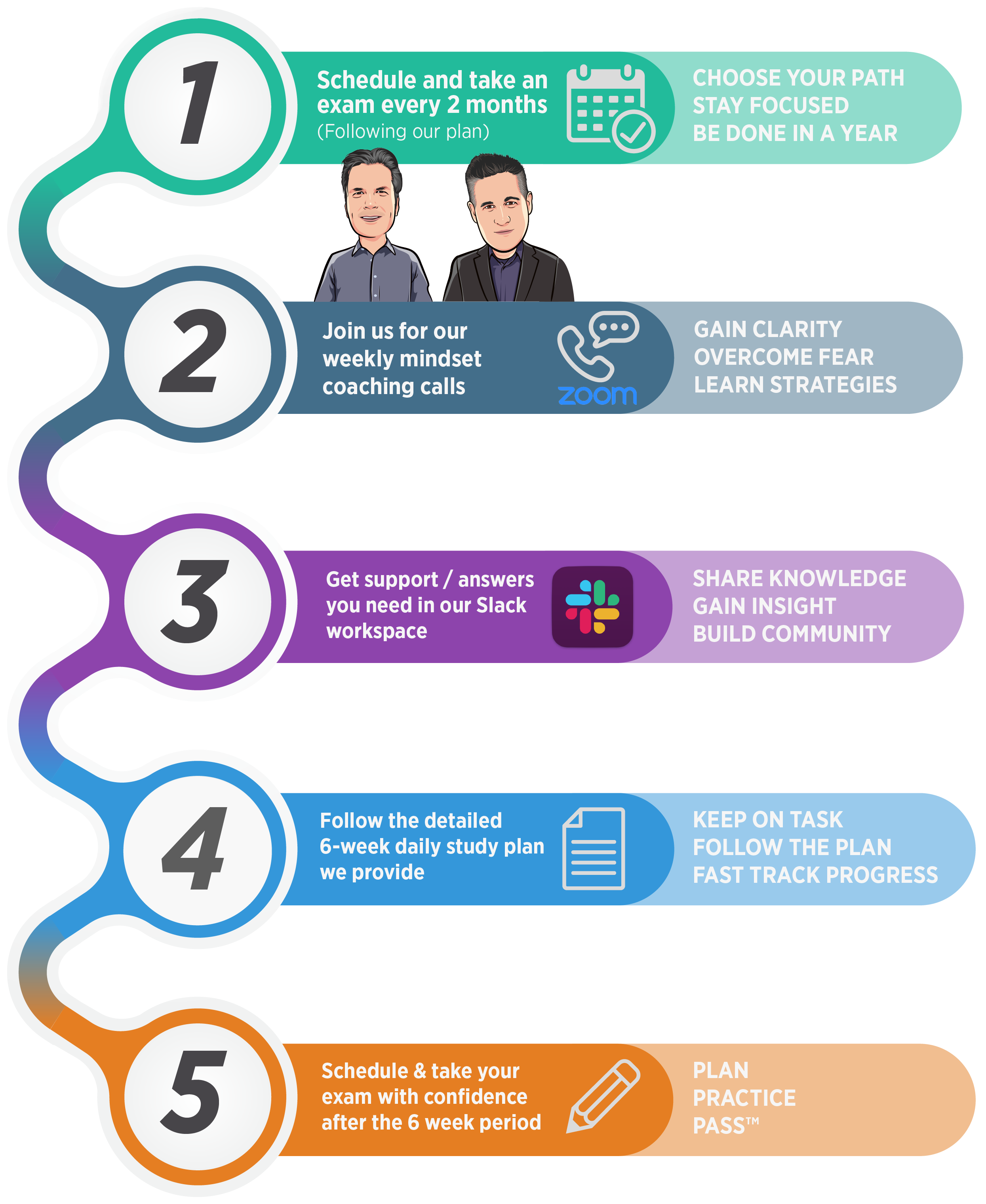 Get through all of your exams in a year!
We developed our Platinum Coaching when it was clear that ARE5.0 was causing candidates to overthink and second-guess these questions. Using a mentorship approach, we coach you to take an exam every two months and support you along every step.
You can add on Platinum Coaching to any subscription for as little $45/month more. That gets you the daily study plans, the coaching videos, the live Zoom calls, access to our Slack workspace, and support from two licensed architects with over 30 years of experience each. Stop taking this on all by yourself!
Add Coaching to any Subscription for as little as $70/month more
LONNIE W.
Ontario, California
I'm done. I just received the email saying that I passed. I'm relieved to be finished. I took 17 tests in all. The program that Eric and David have put together along with coaching is the right combination for passing these exams. I had been a great experience. I will miss the Monday & Tuesday night calls. I have learned so much!
CONNOR C.
Tulsa, Oklahoma
Well everyone, my journey has come to an end. Passed CE, which was my final exam! This group has meant the world to me. I came in to the program thinking I was a bad test taker and after failing my first test, which I hardly studied for, I passed all 6 divisions in a row. The mindset exercises and handouts were a vital piece for me in rewiring my brain. A huge thank you to David and Eric for putting together a great program and curating the study material for us but also for creating a culture here of encouragement and empowerment.
EUNJOO C.
San Francisco, California
I passed the test!!!! The last PDD!!!! I'm DONE!!! This is all thanks to you. I wouldn't have been able to do this without you. Thank you soooo much!! You've been an amazing teacher.
ALL ACCESS GETS YOU ACCESS TO ALL
All 6 Detailed Study Guides

• Over 1600 Pages
• Over 400 Diagrams
• Sections based on NCARB's Exam Guide
• Written in clear language with fun graphics
• Formatted for printing too
All 6 Audio Companions

• Over 100 hours of high-quality audio
• Embedded into Study Guides
• Listen anywhere (working out, commuting, shopping)
• Adjust speed as desired
• Reinforces the lessons
• Stream or Download
All 6 Audio Commentaries

• Hear from David and Eric
• Listen anywhere (working out, commuting, shopping)
• Adjust speed as desired
• Real-world stories to anchor the topics in your mind
All the 3 Case Study Guides

• 18 Case Studies (3 each)
• 630 Questions (105 each)
• Mimics the actual exam
All 6 Sets of Digital Flashcards

• Over 1440 Flashcards
• Study anywhere
• Bookmark your favorites
• Digital & printable versions
All 6 Exam Simulator Banks

• Over 2400 questions total
• Take timed or untimed
• Take with feedback or without
• Mimics the actual exam
• Apply your knowledge